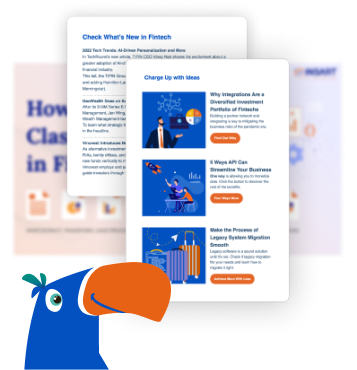 Go behind the scenes of Fintech - join our mailing list.
✦ Insights from experts.
✦ Case studies.
✦ Selected news.
Where our story crosses yours
We could simply deliver solutions and products up to the highest standard. But we choose to do more. At INSART, it's about helping our clients create their story of success to make the whole world listen.
Constructing your next-level experience
Add new lines to your list of accomplishments as we proceed with your project.
What you achieve:
Advanced tech solutions
Cleared backlog
New product lines
Multiple integrations
Great engineering capacity
Faster development
Predictable development costs
Long-term partnership & support
Your new opportunities:
Revenue & profit growth
Business expansion
Increase in client satisfaction
New clients & users
More funding rounds closed
New acquisitions
Why Fintechs stay with us
To build a sound future, one needs a solid ground, a creative vision, and a skilled pair of hands. Since 1993, we've been blending our tradition of partnership with technological innovation to create solutions that can mark a company milestone for our clients.
We are focused on long-term partnerships
5+ years is the average time our biggest clients have been with us

100% of clients recommend INSART to their partners and clients

3 years is the average time clients work with INSART

3–4 years is the average time engineers stay with INSART
We are growing
30% is our average annual revenue growth during 2019–2021

90+ Fintech experts joined INSART by the end of 2021
•
We are a strategic technology partner
that provides solution development services for leading Fintech companies, not an outstaffing agency.
•
Our Fintech expertise makes us understand our clients' goals
from both Technology and Business perspectives.
•

We design and implement
efficient Fintech solutions promptly and wisely.
•

We can help increase revenue
by revamping your technology and cut costs by engaging our Solution Development Team under our careful and effective management.
•

We establish processes professionally
throughout all the project stages to make our work stable, systematic, transparent, and predictable.
•

Our developers undergo regular Financial Literacy
trainings. Domain knowledge helps them ensure high productivity, save effort, reduce risks, and be proactive with constructive suggestions and innovative ideas.
•

To reduce security risks, we implement multi-layer security
measures: background checks, regular security trainings, IP rights protection, network security, and business continuity.
Let's check if we are in the same direction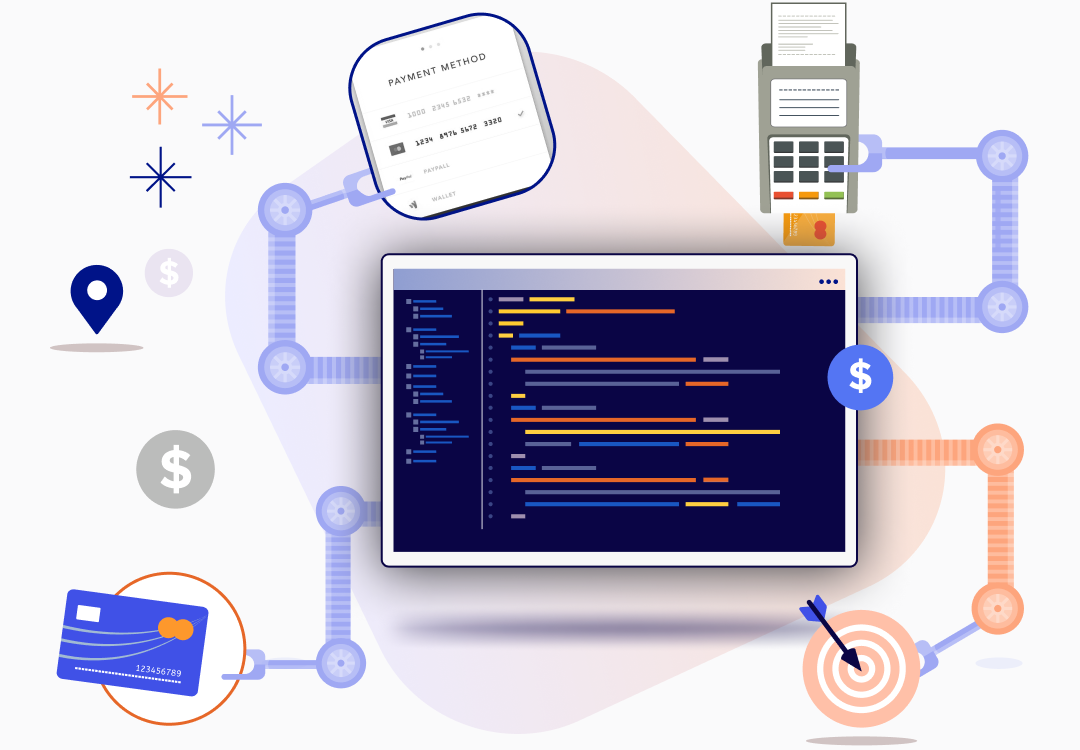 Our North Star
INSART has set a Big Ambitious Goal since 2020 for 10 years:

Transform INSART into a strategic technology partner for at least 100 top Fintech companies with at least overall 100 million users for all clients before 2030.
INSART helps Fintech companies build the most innovative, convenient, secure, and cost-effective software products and solutions.
Our technological, management, and domain expertise and secure teams of software engineering experts are the driving power in solving business challenges of our clients.
We aim to transform all verticals of the legacy financial industry and to provide people with the tools to achieve financial freedom in the digital world.
Our values and principles
Cooperation
together we can move mountains

Trust
each team member is someone to rely on
Results
our client's goals are our goals
Creativity
we build a solid base for thinking out of the box
Professionalism
our profound expertise gets the job done
Involvement
our keen interest is the drive behind the project's success
Mykhaylo Soloshchuk
President
"Participation in the rapid development of the digital world and the massive involvement of intellectual property rights in its orbits has turned my professional trajectories into an exciting journey."
Meet INSART President—Mykhaylo Soloshchuk. He leads our company relying on his strong background in law and computer science: Mykhaylo is Ukrainian Patent Attorney, professor of the National Technical University "Kharkiv Polytechnic Institute'' (Computer Science and Intellectual Property Department), and academician of the Academy of Sciences of Applied Radio Electronics. The full list of Mykhaylo's accomplishments is much longer, so we'll just add that he is also a member of the Editorial Board of the Scientific and Practical Journal "Theory and Practice of Intellectual Property" and has shared his knowledge and experience in 36 publications, including textbooks and scientific articles.
Vasyl Soloshchuk
CEO / Chief Executive Officer
"INSART is my life project. I'm constantly growing as an entrepreneur, manager and leader together with our INSART team helping all the team members to grow altogether."
Vasyl wrote the first line of code at the age of 5, started to manage his personal finance at 14, and launched the first business project at 18 years old. He has got several high degrees in computer science, system analysis and finance with excellent results and then dived into the world of entrepreneurship and software development.
From strategic helicopter view and planning, to tactical execution and even sometimes fighting major tactical fires, Vasyl is dedicated to serve INSART clients and make them the top Fintech companies in the world.
Everyday runner. Loving husband and father of the three cutest kids. Co-founder of Kharkiv IT Cluster. Advisory board member of Ukrainian Leadership Academy.
Connect on LinkedIn
Vadym Shvydkyi
Head of Software Delivery
"INSART for me is a place where vision turns into results. Here, people can improve their skills and achieve their goals by proposing ideas and turning them into life."
Energetic and result-oriented, Vadym has more than eight years of experience in IT and software development. At our company, he is responsible for client relations, client success, and project delivery and management.
Vadym is a father of two beautiful kids, and literally our very own rockstar: he used to be a guitarist in a local rock group. Now his passions are football and gaming: Vadym got first place in INSART CS:GO Championship.
Irina Guridina
CFO / Chief Financial Officer
"INSART is a company I grow with and a company that grows with me."
A technology and economy graduate, Irina has over 25 years of experience in accounting, tax, and financial operations. She successfully completed the CIPA program and received a CAP certificate.
One of her biggest passions is music and another—helping INSART reach new heights. Since 2006, she has been responsible for accounting, legal, and financial aspects of INSART's relations with clients and employees.
Yulia Shaladanova
Head of HR Operations
"INSART for me is a team of professionals with whom everything is possible and nothing is scary."
Yuliia's been working at INSART since 2013, and we are extremely lucky to have her on our team. She is responsible for the financial literacy program, dealing and resolving issues to let everyone focus on their projects, coordination and communication with other departments, organization of all corporate events, and overall management of HR and office management processes.
An outdoor person, she's a candidate master of sports in sailing and enjoys quests and picnics in the countryside. Recently Yuliia became a mother and loves to spend all her free time with her family.
Connect on LinkedIn
Bohdan Hlushko
Marketing Lead
"For me, INSART is a place where hard work pays off. Every single idea you offer is being taken into account and delivered fast, so you see your impact on a daily basis."
Starting as a project manager, Bohdan unveiled his potential as a marketing specialist pretty soon, which led him to the Marketing Lead position.
He is responsible for the INSART's brand awareness, brand development, external connections, and empowering the company name beneath Fintech opinion leaders.
An offense American football player in the past, Bohdan used to push hard both on the game field and in the office, understanding that every single player is a potential MVP who can become a team success driver.
Connect on LinkedIn
Any puzzle pieces missing?
Check for answers to our FAQs here.
Where are your engineers located?
Our HQ is in Miami, USA, with R&D offices in Poland and Ukraine.
How will I know whether your team is working or not?
To ensure the most effective implementation of every task, we organize daily meetings and monitor the evaluation of tasks. We also offer a weekly and monthly report of the hours worked and tasks performed by each developer.
What is a communication flow, if our team is located in the US?
90% of our clients are from the USA. Having analyzed our experience with overseas clients, we realize that we have never had problems with the time zone' difference.
What kind of tools do you use for task tracking and management?
We prefer Jira and Slack.
How do you support security compliance?
INSART is incorporated under the laws of the USA and ensures robust security on all levels: people, resources, code, project, and company level. You may find the full list of our security practices on our Services page.
How long does it take to start a project?
Once we've made a deal with the client, the kick-off usually takes two to four weeks.
Will the developers assigned to my project work on any other project at the same time?
Every expert who is involved in your product development will be fully dedicated only to your project and none other.