This Year in Fintech: How 2022 Challenged and Changed the Industry
It's been a rollercoaster of a year, but tech leaders seem to get used to the unexpected challenges. What's more, we find motivation and creativity boosts in all the turmoil, which fuels our innovation efforts despite the restrictions.
Let's see how 2022 affected Fintech and what were the main events, trends, and releases of the year we see off.
---
Main events that shaped Fintech in 2022
In the post-lockdown, recession-scared U.S., global inflation coupled with the first European war in decades struck Fintech hard. Indeed, the hardships restricted the industry development, but it's too powerful to be stopped. And there were leaps forward, too. Let's take a closer look at the main events that drove change in Fintech this year.
The approaching recession
Even the lightest, cautious shades of recession forecasts darkened the economic background for Fintech.
Many companies had to tighten their belts and cut on projects as funding continued to narrow down. Publicly traded Fintech stocks saw a dramatic 70% fall this year, as Jefferies Group reveals. While the last quarter of 2021 was quite promising, with the Fintech investment flow growing thicker, the U.S. tech sector valuation shrunk at the possibility of a recession, dragging Fintech with it.
Even unicorns like Klarna had to suffer losses, as breathtaking as 85% in the case of this popular Swedish BNPL.
Naturally, M&A exits fell 30% in Q2 2022 as everyone tried to reduce spending.
Another consequence was the sweeping layoffs wave. Layoffs.fyi tracked approximately 30,000 layoffs in Fintech and crypto industries, and the real number could be even more shocking. The most recent case, as per writing, is Plaid's 20% job cut.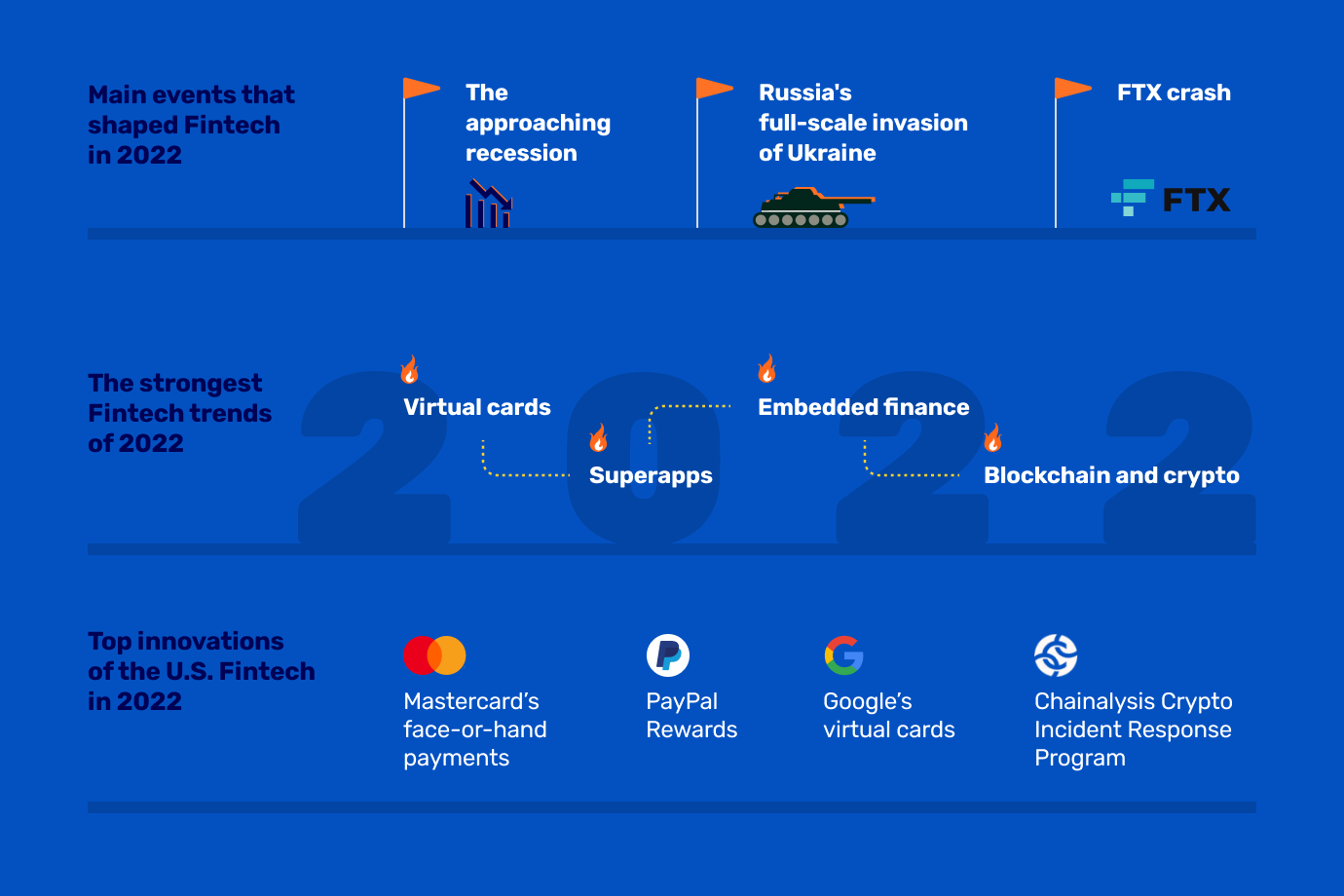 The war Russia started in Ukraine
I bet you know much about the atrocities Russia commits and the Ukrainian resilience that has recently won it "Country of the Year" title from The Economist. What I'd like to focus on in this article is the impact this war has on Fintech, both globally and in the respective countries.
How the Russian war affects the global Fintech industry
What's valuable for the global market, the war helped discover Fintech's advantages over traditional financial institutions when it's raining missiles and push comes to shove.
Ukrainian Fintech companies proved resilient and made good use of cloud to secure their data and operability, like Privatbank. Digital cards like those Ukrainian Monobank offers can't be destroyed like plastic ones, and even the latter can be restored easily and quickly; plus, Fintechs like Wirex and Revolut make it easier for refugees to integrate abroad financially.
At the same time, the Russian invasion brought unexpected changes in regulations and quite a stressful time adjusting to them.
Russian Fintech trapped
By starting the war, Russia got its Fintech growing further but isolated and decapitated, with many chief execs leaving their positions. One example is the founder of Tinkoff Bank, Oleg Tinkov. The torrent of sanctions hastened talented tech professionals off the barely afloat ship of the Russian economy. Companies with ties to Russia became highly unpopular, and getting a license has become next to impossible for residents of the Russian Federation.
Ukrainian Fintech on the powerful rise
At the same time, Ukraine, already famous for its tech talents, turned its IT industry, particularly Fintech, into an economic stronghold amid the crisis. As Ukraine is now well on its way to joining the EU, its positions as the top outsourcing destination only solidify. The best-performing Ukrainian IT companies' customers continued the cooperation and showed trust and support as never before.
Need a tech partner to make your integration go smooth?
→ Let's connect
FTX crash
The FTX crypto exchange collapse this November was loud but also bombastic and has shaken the crypto world. The exchange's liquidity crisis and a report by CoinDesk highlighting potential leverage and solvency concerns, along with other events, led to FTX's founder and former CEO's arrest in connection with the alleged fraud. For Fintech, this episode has (almost) cast a long shadow on blockchain technology, currently used by 81 out of 100 top global companies (including Fintechs such as JP Morgan, PayPal, and BlackRock).
Still, this scandal is not about crypto or blockchain's flaws but investors' oversight. We have JP Morgan's sentiment, for example, where blockchain has its future secured and the bank launches its crypto wallet. Also, Deloitte indicated that at least 75% of US merchants intend to accept crypto payments within the next couple of years.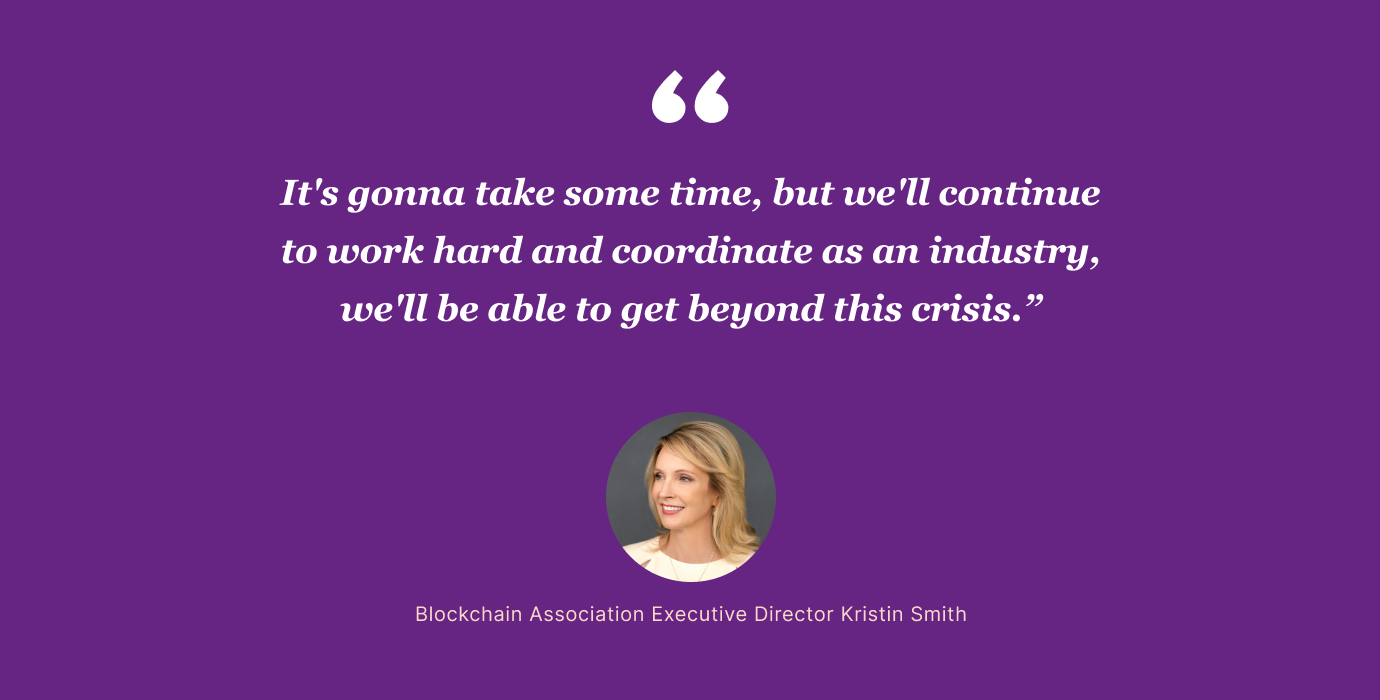 The strongest Fintech trends of 2022
Once spurring much doubt, these technologies and approaches have accumulated enough trust to go mainstream and make finances easier for everyone.
Virtual cards
With online-shopping thriving, so do fraudsters because frequently entering your credit card info makes your finances vulnerable to attacks. Virtual credit cards mask your credit card information on the web by using a disposable card number for each purchase.
While the technology is not new, and it's been more than a decade since Citi launched virtual cards for its customers, this year, Google helped make this technology available for all U.S. online shoppers.
Superapps
Surprisingly or not, this year, apps became more robust and secure than web versions of Fintech solutions. Living on the go, we expect to settle matters in one tap and have all the relevant services in one place—our smartphone.
As Elon Musk's super app plan sparks debates, PayPal works its way into creating an all-in-one offering with every financial service customers can imagine.
Embedded finance
Financial products make their way further into our non-financial experiences. One of the options that received particular popularity in 2022 was BNPL, which is now being actively integrated into digital platforms of all sorts, especially e-commerce. As for other areas where the demand for embedded finance is surging, they include deposits, issuing, and lending, as McKinsey has observed.
Blockchain and crypto
The beginning of the year had us caught in the Metaverse enthusiasm, with JP Morgan spearheading banks' presence there and Fintechs like Worldline coding up digital showrooms. Later, things got worse.
However, while the crypto market witnessed an eye-watering slump yet again and the FTX crush lent it what Bloomberg's Edward Harrison called "a Lehman Brothers moment," 2022 doesn't look like the end of digital assets. Cryptos are evolving: Ethereum, for instance, switched to proof of stake this year, and Solana now beats Visa in transaction rate 65,000 per second (tps) at its fastest (compare it to Visa's 32,000 tps).
Top innovations of the U.S. Fintech in 2022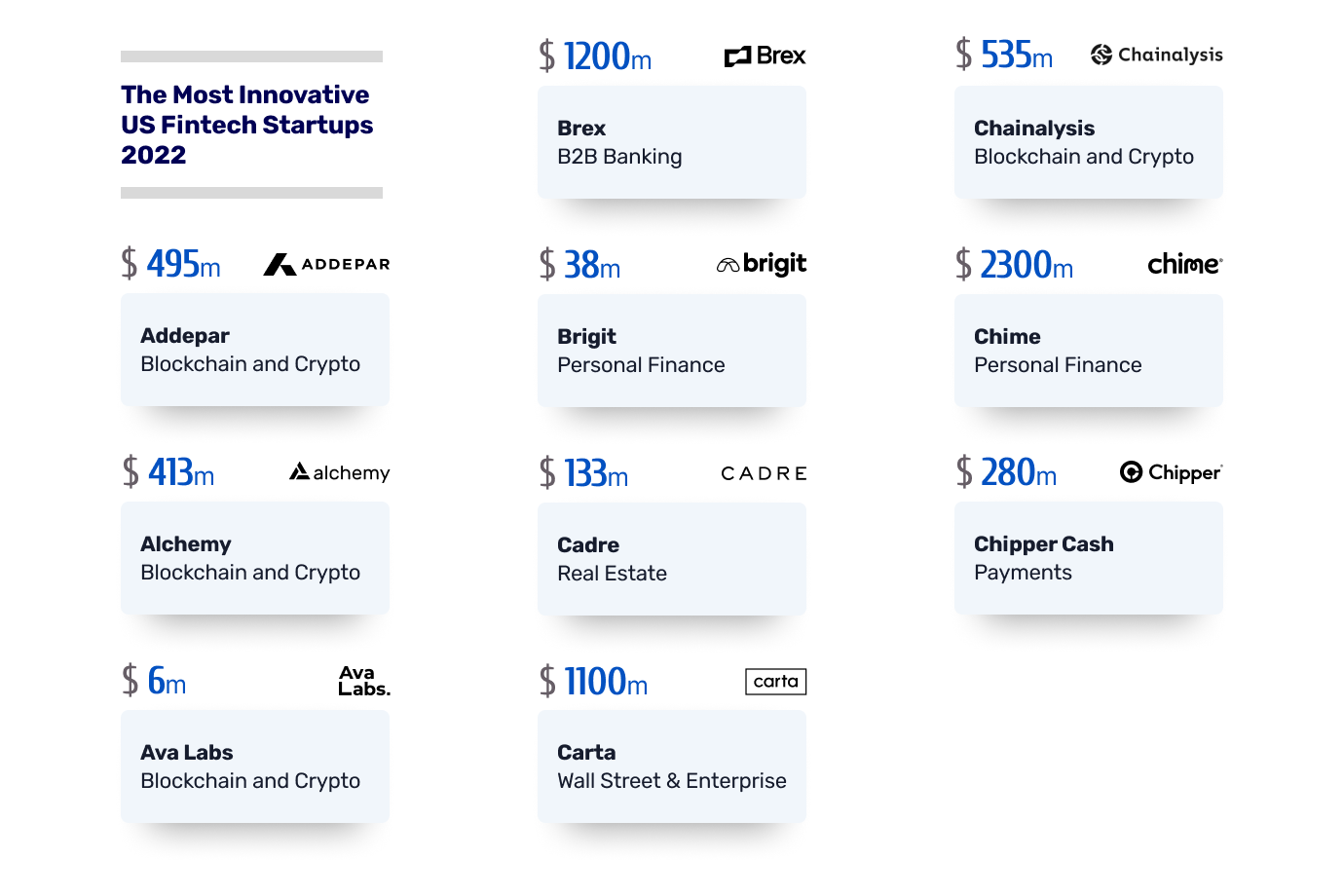 Mastercard's face-or-hand payments
This May, the payments heavyweight allowed customers to use biometric checkout options for an easy, fun, and more secure shopping experience.
PayPal Rewards
As the U.S. payments giant continues pursuing its superapp ambitions, it has launched a unified rewards program. PayPal Rewards allows consumers to accumulate reward points down their spending road and save more with cashback and discount opportunities. The launch followed the introduction of the company's new BNPL offering, PayPal Monthly.
Google's virtual cards
This March, Google announced it would allow users to turn on a virtual card option when they save their debit or credit cards to their Google account. This means U.S. card owners receive next-gen security on any website they wish to purchase from.
Chainalysis Crypto Incident Response Program
This launch received less attention than the aforementioned innovations of the bustling payments space. Still, its value is enormous for the evolving crypto space, turbulent and lacking regulation yet forging the future of finance.
Chanalysis has invested its expertise in fighting cybercrime into an imminent-reaction program for cryptocurrency businesses and organizations that work with cryptos. The program will let entities receive top-class rapid support and investigation to help undo the damage from theft.
Enjoy security and order at all levels of software development.
Entering 2023 as a Fintech business
Congratulations to us all for surviving another turbulent year and making gallons of lemonade out of all the lemons it threw at us. Fintech remains unstoppable as ever and uses every challenge as a chance to grow and thrive. So do we, and I firmly believe so do you.
As we enter the next year, let's start making our new plans a reality. As a seasoned tech partner, INSART will be happy to become a part of your story in 2023 and help your company reach the top by building innovative solutions. Let's schedule an after-holiday call while there are plenty of time slots to choose from.